---
---
Help us take child abuse awareness to new heights—with Facebook and Twitter materials for you to post and share to your heart's content.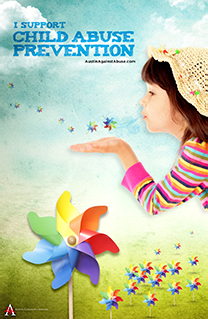 ---
---
Help Child Abuse Prevention Month start off strong by visiting any one of the eight P. Terry's locations on Saturday, March 29, 2014. All proceeds will benefit Strong Start, so come hungry! Austin Children's Shelter will be present at each location between 11 a.m. and 2 p.m. to hand out pinwheels and support the movement.
Can't make it? Create your own pinwheel using the provided instructions, snap a photo with it, then post to your social networks, using the hashtags #CAPM and #PickaRole.
This week's Pinwheel Patch:
Week of 4/8
---
---
From your community to your workplace, learn what you can do to help prevent child abuse.
As an Individual
Be a Friend
If a parent you know seems to be struggling, offer to babysit, run errands, or just lend an ear. Show you understand.
Be an Example
Children need to know that they are special, loved, and capable of following their dreams. When you're a nurturing parent, you're an influencing example to everyone around you.
Report Abuse or Neglect
If you have reason to believe a child has been or may be harmed, call local child and family services, your police department, or the Texas hotline at 1-800-252-5400.
Volunteer
Give your time to an organization that helps abused children or parents. When you volunteer to help others, it can have a powerful effect on their self-esteem and their lives.
Donate
Support nonprofit organizations, such as Austin Children's Shelter, that provide family support and care for children who have been abused.
In Your Neighborhood
Start a Group
Organize neighborhood parent support or child play groups.
Push for Low-cost Childcare
Start a babysitting co-op or ask your place of worship to provide free or low-cost childcare.
Create Local Destinations for Families
Help develop free family recreational facilities, such as community gardens, parks, rec centers, trails, and bike paths.
Get Support From Schools
Ask your neighborhood schools to provide resources for parents: speakers, tips, ideas, and programs.
At Your Workplace
Advocate for Family-friendly Policies
Ask your employer to consider policies and services such as onsite childcare, flexible scheduling, leave policies, telecommuting, and paid family sick leave.
Create Volunteer Programs
Encourage employee volunteer programs that support safe and healthy families.
Offer Helpful Resources
Invite guest speakers, supply parenting resource materials, and do
team-building exercises that promote healthy relationships and
decrease stress.
Implement a Corporate Match Program
Boost employee donations to local nonprofits that strengthen families by offering a corporate match program.
Donate Your Services
Ask your company to contribute cleaning, landscaping, graphic design, printing, or any other helpful service to nonprofits.
In Your Community
Push for Higher Foster Care Rates
Ask your legislators to increase foster care rates by 14%—the minimum amount needed to protect the foster care safety net for children in Texas. Learn more.
Meet With Your Legislators
Organize a town hall meeting with your local legislators to address issues that affect families.
Support Families
Help build communities that provide quality education, job skills training, affordable housing, and reliable childcare.
Advocate for Better Quality of Life
Get behind issues that make life easier, such as better public transportation and affordable healthcare, including mental health and substance abuse treatment.
Follow Legislative Issues
Keep up with matters related to child protection by following TexProtects.org.
---
---
When it comes to breaking the cycle of child abuse, no role is too small. Choose yours today, and learn more about ours when you visit AustinChildrenShelter.org.